Details
The PDS Bottom-Lock slat provides an economical and attractive way to enhance any chain link fence. Bottom-Lock Slats are flat tubular in shape, with reinforced "legs" inside for extra durability. Our patented locking channel provides a "snap-in" locking effect for security and to deter vandalism.
Height: 3.5 ft
Mesh Size: 2" or 2 1/4"
Slat Length: 3 1/2" shorter than overall height of fence.
Wind Load Privacy Factor: Approximately 75%.
Limited Warranty: Bottom Lock carries a 25-year, pro-rata warranty against breakage under normal conditions.
Materials: The Bottom Lock product is extruded from High Density Polyethylene (HDPE), color pigments and ultra violet (UV) inhibitors, specifically designed to retard the harmful effects of the sun and lengthen the life of the product.
Durability: PDS® HDPE Fence Products are resistant to: severe weather conditions, salt water, sand, road dirt, most acids, alcohol, alkaline, ammonia, petroleum distillates, and common environmental pollutants.
Maintenance: Pressure cleaning of surface contaminants is quickly accomplished with plain water.
Colors Available: White, Green, Brown, Black, Beige, Grey, Redwood, Royal Blue, Light Blue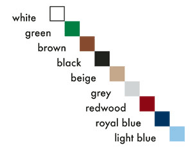 Bottom Lock Slat Specifications:

Additional Information
| | |
| --- | --- |
| SKU | BLS35 |
| Coverage | 10 Lineal Feet |
| Mesh Size | 2", 2 1/4" |
| Locking Channel | Bottom Locking Strip |
| Warranty | 25 Year Warranty |
| Condition | New |
You may also be interested in the following product(s)
| | | | |
| --- | --- | --- | --- |
| | | | |